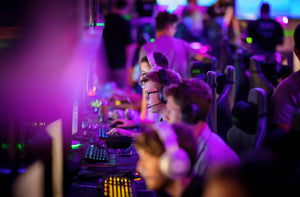 VYRAL GAMING ARENA
Play on one of our 38 CUSTOM VYRAL Gaming PCs equipped with Ryzen 7's and Nvidia RTX 3070's. Immerse yourself in game play like never before!
Watch a Tour here
RACING SIMULATORS
2 full motion racing simulators used by professional drivers and racing teams all around the world.
Racing Sim
Consoles & Retro
Challenge your friends or play alongside with others in one of our 12 seats equipped with new and old consoles.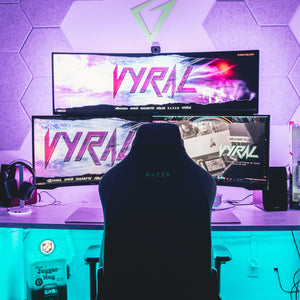 Studio
In partnership with RAZER, the studio room is a one-of-a-kind experience for content creators and gamers.
Studio
membership
Unlimited game time
10% off merchandise
All for just $100!
Add-Ons
+$50: Unlimited Flight Sim
+$50: Unlimited Racing Sim
+$50: Unlimited Stream Room
1 hour: $8
2 hours: $14
4 hours: $22
Day Pass (Mon-Thu): $30
Weekend Day Pass (Fri-Sun): $35
Flight/Racing Pass Add On: $10
PC & CONSOLE: 1X
FLIGHT SIMULATOR: 2X
RACING SIMULATORS: 3X
Game time can be spent on different types of devices in the arena at varying rates!
Please keep in mind that ages under 14 must be accompanied by an adult at all times, no exceptions. Racing simulations use real drive force feedback which requires the user to be at least 15 years old.
1 hour: $20
2 hours: $30
4 hours: $40
5 hours: $50
6 hours: $60
To find out how much you can play just take the rate and divide it by the consumption rate. For example if you buy 2 hours and want to spend it in virtual reality: that would be 1 hour.
Game time is non-refundable.
Thank you for understanding!
★★★★★

Love this place, extremely happy I found it. cool place, people, and super helpful. If you need anything done to your PC for gaming purposes there's no one else better in the Dayton area that I have found. They are extremely knowledgeable and will answer any questions you have and give it to you straight forward, they're not going to push you into buying upgrades that your build doesn't necessarily need.
Honestly, will not be going anywhere else for PC help.

CinCity29

Dayton, Ohio
★★★★★

Amazing place to come and enjoy games you're interested in but aren't sure whether to buy, bring your family and friends, and EVEN get your own computer. I custom ordered and built in house with the lead builder and it was an amazing experience!

Tony

Dayton, Ohio
★★★★★

Incredibly clean, well-stocked facility with very friendly, helpful staff. Quite reasonable for what it is - I can't imagine their margins are very thick. We went during a weekday afternoon and the crowd was light. A wonderful opportunity for family bonding.

Jack

Dayton, Ohio
★★★★★

Our first experience with Vyral was great! My son just finished a PC building camp. He learned a ton and had a great time. He's looking forward to other events at the compound. Gaming room is amazing!! Staff are very friendly and professional.

Anne Jacobsen

Dayton, Ohio
★★★★★

can't believe that this place has been open nearly a year and I did not hear about it until this week. Not only do they do custom PCs but they also have a huge, really cool gaming area. The staff and owners great, very helpful, and they are all about working with kids and schools.

Marlene MacVane

Dayton, Ohio