shop the look
Vyral Pc Gallery
Shop the look of our VYRAL builds we have done for streamers, content creators, celebrities and customers all around the world!
TFUE Crimson
This isn't no dog sh*t prebuilt. This bad boy was created for TFUE himself and yes, it has a screen in there.
MATTYKAY'S "SNOW WHITE" BUILD
The VYRAL TikTok build we did for Mattykay. This build put the "SNOW WHITE" on the map!
"off-white" inspired
Inspired by the brand that set so many trends, we had to pay our respects and create a masterpiece.
Supreme
Created for the HYPE-BEAST himself. Inspired by the brand and movement they have created. This is one of our all time favorites
SSUR x VYRAL
Created for the mastermind himself and adding a little mix of SUPERPLASTIC. Yes, that is barbwire inside the PC. We love pushing limits
MAD MAX
This build was created for a Mad Max themed music video shoot for the artist DIPLO. Very unique, 1:1
*not for sale or duplication*
END GAME
Any thanos fans out there? This was an inspired build from END GAME. We went all out to create that thanos look!
EVOLVE MEsh
This is our take on the EVO. Adding our signature Vyral 7" screen and upright GPU mount
buy now!
Vyral Meshify
Do not let this small case fool you! This case if fully mesh and can pack some heat!
buy now!
Master Chief
We put our love for the Halo series into this custom build. Inspired from the Halo Series X Xbox
buy now!
Squid Game
Hope you survive the games for this one.
crafty
This 8-bit masterpiece was built with minecraft blocks of custom vinyl work.
murder your thirst
We had to create a custom build for our favorite brand/water: liquid death.
bomb'd
Showcasing our abilities to wrap anything you want!
mini with a screen
Often imitated but never duplicated. We were first on the scene to complete this 14" Screen mod in a Lian Li mini. We love pushing the limits!
Enter the matrix
Full custom matrix theme wrap. Inside and out on a Lian Li XL case
White Camo
Camo wrapped o11 glass panels
Glowing
Glow in the dark border case on a Lian Li XL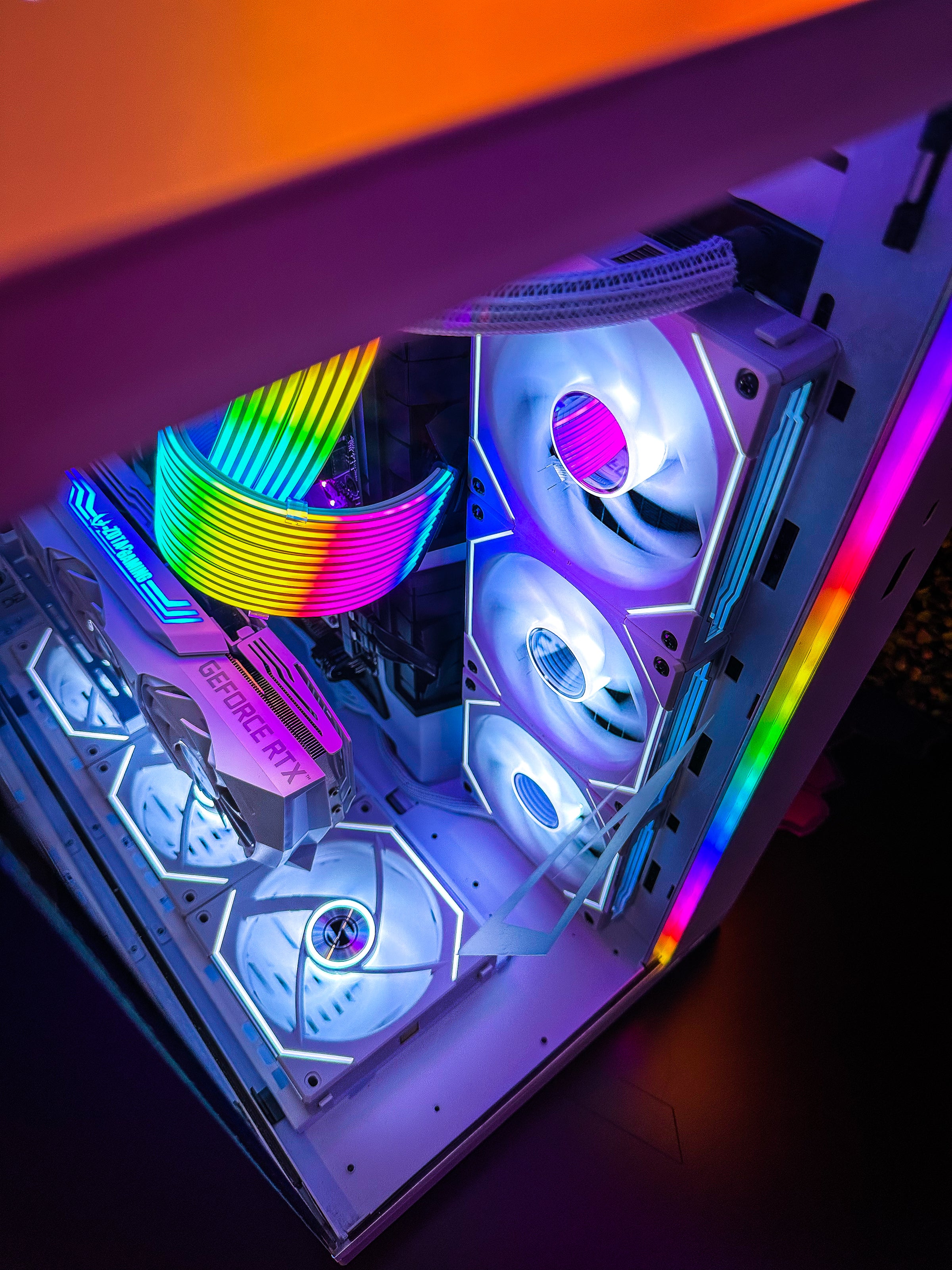 Leading the industry
Vyral custom builds
Vyral is not your ordinary PC shop. We custom build everything in house.
You dream it, we will build it!